If you're interested in spending an evening out along Detroit's Livernois strip, you definitely have nightlife options.
You can grab a beer and check out some live music at Hangovers. Or, if its a Sunday night, you can stop over to the Locker Room Lounge and catch host David Brandon jamming with a hot lineup of local funk and R&B players. But, if you're looking to enjoy a memorable night of music at a world famous jazz venue, well, there's really only one place to go: Baker's Keyboard Lounge.

 
"We have folks that come in here from all over the world," says the club's co-owner Eric Whitaker. "Baker's is world renowned and folks like to come in and experience what that's all about."
The 2,000-square-foot venue features a cozy Art Deco-influenced Moderne-style exterior designed by architect Philip Funke and an interior that includes a piano keyboard-themed bar and paintings of European landscapes by the artist Harry Julian Carew. Patrons can order from extensive soul food menu that includes chicken, pork chops, BBQ ribs, and several varieties of fish, as well as a bunch of sides. But, more than anything else, the reason for Baker's appeal is its fabled musical history, a heritage that the City of Detroit honored with a historical designation in 2016.
Some of the greatest names in jazz and blues have played the club, a list that includes Dave Brubeck, Art Tatum, Cab Calloway, Nat "King" Cole, Ella Fitzgerald, John Coltrane, Sarah Vaughn, Thelonius Monk, and the Modern Jazz Quartet, among others.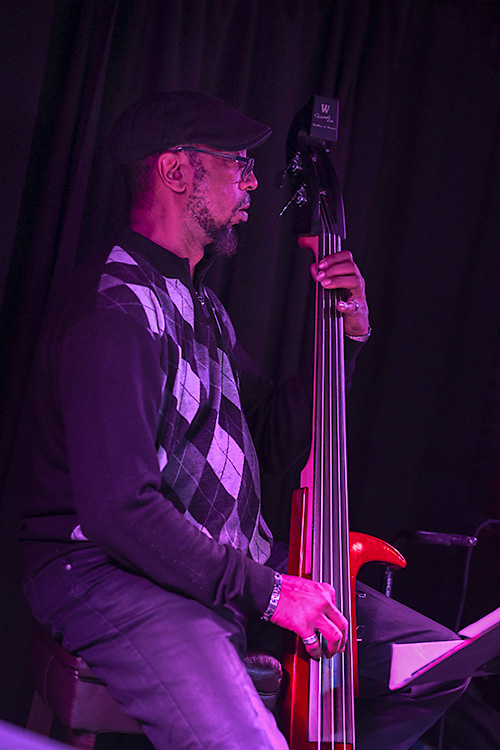 Ibrahim Jones plays bass with the Renee King-Jackson quartet.Whitaker had his own amazing experience there many years before he became an owner.
"I personally got to witness Miles Davis sitting in on a jam session," he says, "which was phenomenal, especially for a bright-eyed 18-year-old that had never really experienced a lot of live jazz entertainment."
Baker's, which bills itself as the "World's Oldest Jazz Club," began life as a lunchtime sandwich shop opened by Chris and Fannie Baker in 1933. The following year, their son Clarence Baker, a huge jazz aficionado, started booking pianists there, though at that point people still thought of it primarily as a sandwich shop. That changed in 1934 when Clarence took over the business after his father had a stroke. Now fully in charge of operations, he started bringing in pianists from outside of Detroit, although Pat Flowers, a local player whose style was comparable to Fats Waller and Art Tatum, still served as the venue's featured attraction from 1940 until 1954.
Clarence Baker renovated the space in the 1950s, expanding the seating to its current ninety-nine-person capacity and reworking the interior to its present-day style. And when the spot next door, Club Alamo, went out of business, he bought it, using the extra space to accommodate more parking. Within a few years, business at the club picked up substantially, kicking off what's known as the "Golden Era" of jazz at Baker's, a period where trios and quartets reigned supreme that lasted through the early 1970s.
In the latter part of the 1950s, Baker's started booking big-name jazz acts like Dave Brubeck, Gerry Mulligan, and Art Tatum. Tatum, who performed there during the final two years of his life, was also responsible  for selecting the historic Steinway piano that can still be found at Baker's today. By the early 1960s, the venue's tastes began shifting to Hard Bop and other modern jazz styles, and names like Kenny Burrell, Yusef Lateef, and Oscar Peterson started getting top billing.
George Davison, an accomplished local drummer, who's worked with Aretha Franklin, Paul Butterfield, and Eddie Harris, has spent more than a little time at Baker's over the years. From the late 1990s until around 2004, he had a residency there playing with an orchestra and quartet led by pianist and saxophone player Teddy Harris.
During its heydey, Davison recalls, Baker's was just one venue in a constellation of prestigious Detroit jazz clubs that also included Klein's Show Bar, The Flame, Dummy Georges, The Mozambique Club, and Three Sixes in Paradise Valley. Back then, jazz was held in the utmost esteem by the folks who frequented Baker's.
"Now it's more of a commercial crowd, but back in the day there were more jazz listeners, you know, impresarios," he says. "Even the regular crowd was just deeply involved in true jazz, classical jazz."
Davison has experienced many unforgettable moments at Baker's over the years: seeing Wynton Marsalis play with Art Blakey's Jazz Messengers, getting to know drummer Grady Tate, even being heckled by Red Fox while playing as a member of the comedian's backing band. But one memory that really sticks out is a gig with singer Ernestine Anderson. Davison was leading the house backing band at the time, and Anderson, a true perfectionist, wasn't happy with one of its member's performances.
"We had a world famous pianist with us, and she didn't like it," says Davison. "She would turn around and say 'No! You've got to get a better piano player. So I had to get Teddy Harris back in town — he was the musical director for The Supremes. He came back to town, fortunately, and then she was satisfied."
RJ Spangler, 52, is a veteran Detroit jazz and blues drummer. He's performed with musicians like Johnnie Bassett, Faruq Z.
RJ SpanglerBey, and Marcus Belgrave and currently leads his own trio and co-leads Planet D Nonet. For him, the Baker's of his formative years was a special place.
"It was a serious jazz club, man. You went there and you listened. Nobody talked," he recalls. "You went there with a date usually. It's not something you did with a bunch of jazz buddies. You went to Baker's, put on a jacket and a nice shirt and went to hear some serious jazz."
In those days, Baker's was open six days a week and closed on Mondays. It was a small intimate setting, and there was a mirror so you could sit at the bar and still catch the show. Back then, nearly all the performances were touring acts from out of town.
"It was where you went to go see your heroes. Other than being in a local rhythm section backing up a famous horn player, local guys didn't really headline there," he says. "The lone exception would be Earl Klugh, the guitar player. Clarence Baker liked him and gave him a shot. Other than that it was strictly national stars."
Although Spangler has seen many acts at Baker's over the years, and has performed there several times with singer Odessa Harris, one of his most treasured memories is of a 1986 concert later released as a live album called "Bemsha Swing" by Blue Note Records.
"I was there one time to see the great trumpeter Woody Shaw with a great Detroit rhythm section: Roy Brooks, Robert Hurst, and Geri Allen. And it came out on a record," he says. "It's a very rare record, but it's available. There were maybe 25 to 30 people in that room when I was there, a very special day."
Though Clarence Baker no longer runs the establishment that bears his name, the legacy of the club continues. After many decades as owner and operator, Baker retired in 1996, selling the club to John Colbert and Juanita Jackson. Eric Whitaker and his partner Hugh Smith, in turn, purchased Baker's from them in 2011.
While Whitaker and Smith have updated and upgraded parts of the building, they've strived to do so in a way that preserves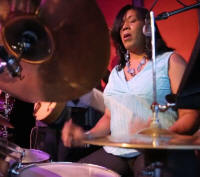 Gayelynn McKinneythe club's classic atmosphere. As for the music, Baker's now focuses on booking acts that live in Detroit but tour internationally, like the Latin jazz group LL7 and the all-female ensemble Straight Ahead.
Gayelynn McKinney, daughter of the celebrated Detroit pianist Harold McKinney, is Straight Ahead's drummer. She considers performing at Baker's to be part of keeping a long tradition alive.
"My father performed there with Kenny Burrell on many occasions, as well as his own groups," she says. "We take it for granted here in Detroit, but there are still people from other cities that want to play at Baker's because of its storied history."
And beyond the history, she knows she can always count on an appreciative crowd at the venue.
"The vibe at Baker's has always been the same, no matter who owns the club," says McKinney. "People know to expect quality jazz music, and after all these years they still pack that club."

 
This article is part of a series where we revisit stories from our On the Ground installment and explore new ones in the Live6 area. It is supported by the Kresge Foundation.
Photos of RJ Spangler and Gayelynn McKinney are courtesy of the musicians. All other photos by Doug Coombe.